Our customers consistently share great comments about NOVAworks outplacement services. Here are some examples:
7,000+ Job Seekers served since 2020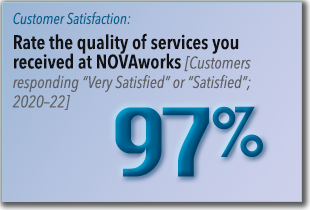 The appointments helped me get unstuck, provide direction, and helped me stay encouraged. Sometimes I'd go to the appointments feeling anxious and disappointed in myself and I'd come away feeling more hopeful. The career advising appointments have been amazing and I can't thank the advisors enough for all their efforts!
I received a lot of insight and resources I otherwise would not have had. It's all been a great help.
Very courteous, patient, helpful, and knowledgeable staff.
I love my career advisor!
Completely tailored and relevant info. These career advisors know their stuff!
I'm very grateful to NOVAworks and all the career advisors. Excellent assistance with the most relevant job search assistance and up-to-date information on how recruiters search and hire.
NOVAworks was the best discovery in my job search. Everyone was so supportive and knowledgeable. I have recommended it to several people.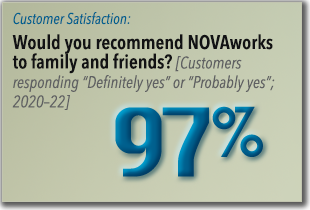 I like the workshops, especially the group activities that allowed me to interact with other job seekers and listen to the experiences they had during their job search process.
I received good detailed advice that helped me get noticed and interviews. But also building my confidence with the customized help.
Workshops are highly informative and useful, especially for someone who doesn't know how to write a resume.
Everyone at NOVAworks cares so much.
I wouldn't have gotten help with interviewing or created a resume that was so professional without help from NOVAworks. Top notch service, timely, tailored to my needs, and all the advice was super relevant and helpful.
It is a very stressful time being unemployed, and I was overwhelmed with the layoffs but NOVAworks helped me stay focused and positive.The workshops are super helpful.
NOVAworks was a huge help to me in finding a job
We have assisted employees from hundreds of Bay Area companies, including:
CISCO Systems
Oracle
Intel
Owens Corning
HCL America
Tesla
Google
Intel Corporation
Grid.AI.Inc
Mitsubishi Electric
Peninsula Pet Resort
Teksystems EF&I Solutions
WANdisco Inc
Accenture
Analog Devices, Inc.
DeWinter Group, LLC
Earthtone Construction, Inc.
Globality, Inc.
Inspyr Solutions
Juniper Networks
Kaiser Permanente
Norcal Pool Construction
Seagate Technology, LLC
XP Power
Asana, Inc.
Robert Half International
Total Presence Management
Velodyne Lidar, Inc.
8X8 Inc
Comet Technologies USA
Freshworks, Inc.
Golden Rule Title, LLC
SAP, Inc.
Illumina
Nutanix, Inc.